An air of mystique and legend surround almost every street of Los Angeles, but none so much as that of hallowed Hollywood Boulevard. Here you can walk in the footsteps of studio system superstars and those soon-to-be-famous actors. With Grauman's Chinese Theatre, the Hollywood Walk of Fame, and Frederick's Of Hollywood, there's no question as to why this street in sanctified in Hollywood lore.
It's undeniable that Hollywood Boulevard is an icon for city-dwellers and cinephiles around the world. But as LA takes its rightful place on the culinary world stage, Hollywood Boulevard stands out as a destination for some of the best food in the country.
Here are some of our favourite spots to visit on the palm-lined streets of this taste-bud-enticing thoroughfare, should you want to leave the comfort of your Los Angeles home for a taste of the best eateries on Hollywood Blvd.
25 Degrees | 7000 Hollywood Boulevard
Yes, the rooftop of the historic Roosevelt Hotel is the place to see and be seen in LA — just ask Marilyn Monroe, she lived here for two years early on in her career. But dry off and head downstairs to 25 Degrees, a refined take on the traditional American burger bistro. Don't worry about what time you arrive; 25 Degrees is open 24/7. So, you'll always be able to sink your teeth into an expertly cooked burger — according to the restaurant, 25 degrees is the "precise temperature between a medium rare and well-done hamburger." Whether you're starting out the night or ending it in the wee hours of the morning, you'll be able to get a meal that's something Serious Eats calls a "pleasure akin to hearing the curtain whisk close behind me as I walk into a plane's first class cabin." Um, that's one of the best feelings in the world! Don't forget to grab a chocolatey Guinness milkshake to wash it all down in the luxe confines of this singular spot. Who knew a simple cheeseburger could be glamorous?
Want a taste of not just something delicious but something that is a throwback to white-table-cloth old-school LA? Put on your finest and take yourself to the Musso & Frank Grill where the restaurant's elegance will make you feel like you're headed back in time or into one of your favorite classic movies. Since its opening in 1919, this "New York-style" steakhouse has been serving up thick cuts of steak to the who's who of "… is that who I think it is?" Producers, directors, and, of course, actors have been frequenting this ideal spot for almost a century. There's no secret recipe to Musso & Frank's success — it's a mix of high-end service and some of the most decadent cuts of steak you've ever tasted. Think cut-with-a-butterknife filet mignon and mouthwatering bone-in pork chop to satiate any carnivorous cravings you might have. Cap it all off with the restaurant's signature martini. After all, Douglas Fairbanks, Mary Pickford, and Orson Welles couldn't be wrong!
Katsuya | 6300 Hollywood Boulevard
LA is a melting pot of cultures and cuisines. And those with a wont for flavors from Japan need look no further than Katsuya. From the creamy rock shrimp appetizer to the fresh-from-the-ocean sashimi sampler to the to-die-for kakuni pork belly. This Philippe Starck-designed Hollywood mainstay always serves up something delicious. Prepare yourself for a multi-sensory experience with excellent music, food, and people watching in what Zagat calls "cool," "fashionable," and "fast-paced."
Loteria | 6627 Hollywood Boulevard
The great Los Angeles versus San Francisco burrito debate may rage on indefinitely, but there is no denying that those who want authentic Mexican food in LA in an upscale setting need look no further than Loteria. Indulge in the queso fundido as a filling app or have a taste of the crispy tacos with multiple fillings.
Delphine | 6250 Hollywood Boulevard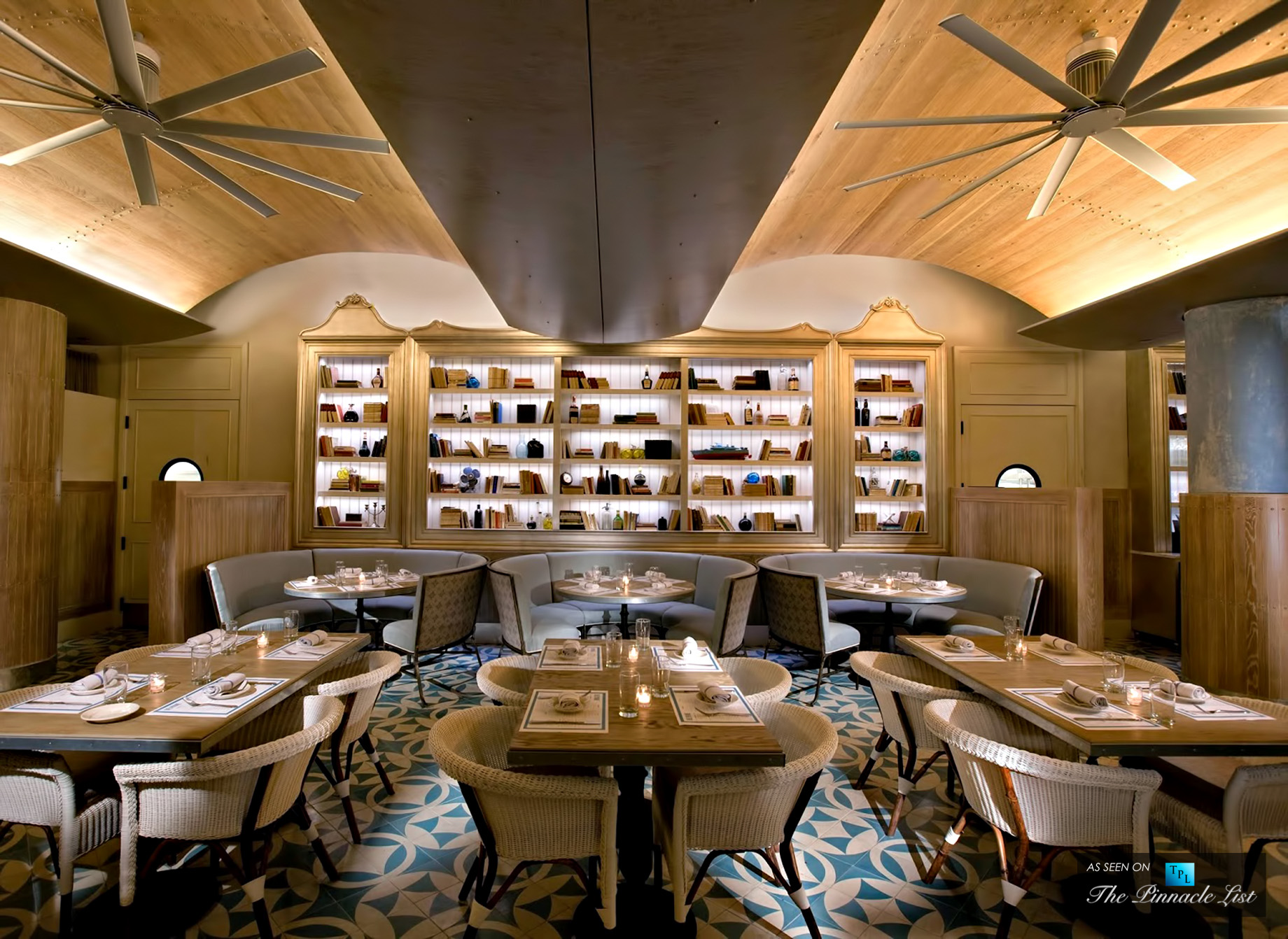 The name may conjure images of ancient Greece or modern-day France, but the flavors served at this upscale Hollywood Boulevard spot are distinctly American. The sleek modern space of the dining area lends itself to the sophisticated yet accessible dishes that are always local and organic. Stop in for a snack like jalapeno hush puppies or really go to town with decadent diver scallops and truffle sweet corn.