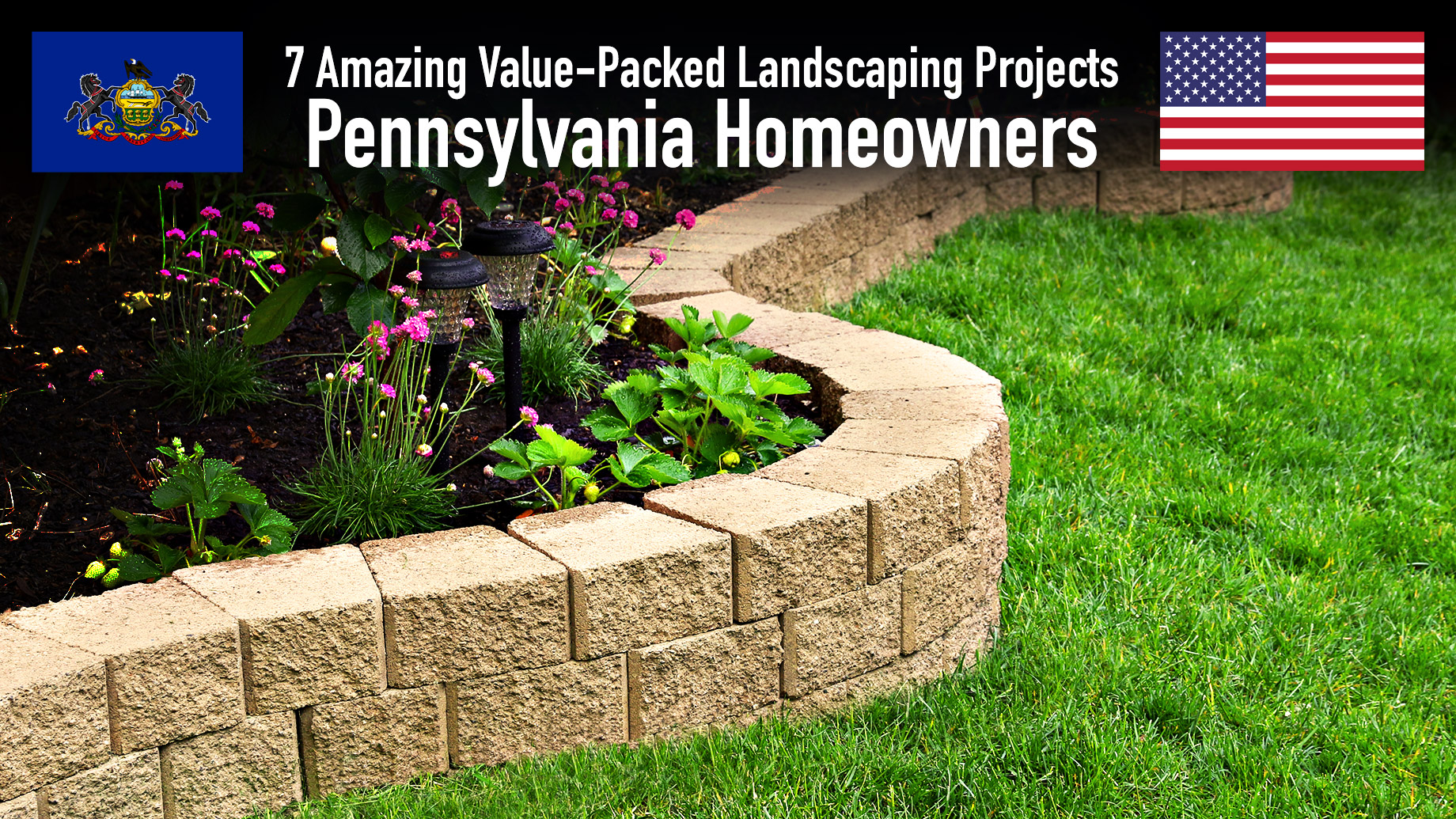 Landscaping and lawn care projects are perfect for boosting the home equity value, and visual appeal of your house. Making your exterior pop in a way that immediately makes it stand out from your neighbors is critical to having a valuable property. To ensure you're spending your money on an investment that will truly give you the most bang for your buck, here are seven amazing value-packed landscaping projects for Pennsylvania homeowners to consider in 2022:
1. A Stone Walking Path
The stone aesthetic has long been associated with PA homes. If you want to add that flair and style to your home's landscape, adding a stone walking path is an excellent choice. Not only are they easy to maintain, but they will add a magical new element to your home's exterior that you and your guests can enjoy endlessly. By adding a few of the other projects on this list along the path, you can make your home's exterior a fully-fledged wonderland.
2. Installing a Fire Pit
Nothing can help you stay comfortable and cozy on a lonely PA winter night quite like a custom-made fire pit. If you prefer having company, a fire pit will become that much more invaluable as a fancy new addition to your property's exterior. Cooking hotdogs and marshmallows, enjoying a romantic date, or hosting a community event all become possibilities once you've successfully erected a beautiful new fire pit on your property's land, after all.
3. A Fully Manicured Front Lawn
If you want your home to be one of the most gorgeous and well-maintained in PA, you need to invest in the quality landscaping and lawn care services in Pennsylvania. They will ensure your lawn always looks professionally cared for, and that your land's style is fully tailored to your aesthetic needs. If you have any large-scale outdoor projects, beyond simply keeping your front lawn fully manicured, the professionals on their team can become a huge source of knowledgeable support.
4. Boosting Your Privacy
Sometimes yard side projects are not specifically designed to boost the beauty and curb appeal of your home. In some cases, they are meant to boost privacy and shield you from prying public eyes. Whether you're placing bushes in front of your windows, adding more trees for shade, or tackling another similar landscaping project that's meant to boost your privacy, your investment will pay off big time. After all, many Pennsylvanians value their privacy just as much as they do their comfort.
5. Planting a Floral Fence
Even if you're planting one to simply beautify your home, and not to just keep unwanted visitors out, a floral fence is one of the fanciest ways to massively boost the style of your home. While the initial investment can be steep, the unique aesthetic it will add to your home will make your house the talk of the neighborhood. When you're looking to tackle this project, seeking the assistance of a professional landscaping company is highly recommended, as there is a lot of groundwork and planning involved in completing the project successfully.
6. Planting a Garden
Some outdoor projects are perfect for not only making your home shine but for giving you a way of saving our planet. Planting a garden gives you plenty of sustainable ways to farm your favorite vegetables and will give you a hobby that will fill your summer with an invigorating sense of accomplishment. The endless variety of veggies, flowers, and other fun projects you can add to your garden will keep you plenty busy. If you're in a tight-knit neighborhood, you can even begin a neighborhood garden that will make you and your neighbors closer than ever before!
7. Spruce Up Your Home's Smells
When you invest in placing more plants, flowers, and comfy projects around your home's exterior, you unlock an unexpected benefit: a revamped garden of scents! Not only will this make you feel happier when you're enjoying your amazing new property, but it will help attract more guests to your home than ever before. If you want to impress your guests with your ingenuity and creativity, you need to focus on how any of your exterior landscaping projects will affect the scent profile of your home.
Time to Unlock Your Dream Property
With the right amount of effort, planning, and professional assistance, you can easily unlock the property that you've always dreamt of. The additional home equity these projects can unlock will further your ability to continue improving on your home and will ensure that you can gain a healthy ROI on the property if you ever need to move in the future.