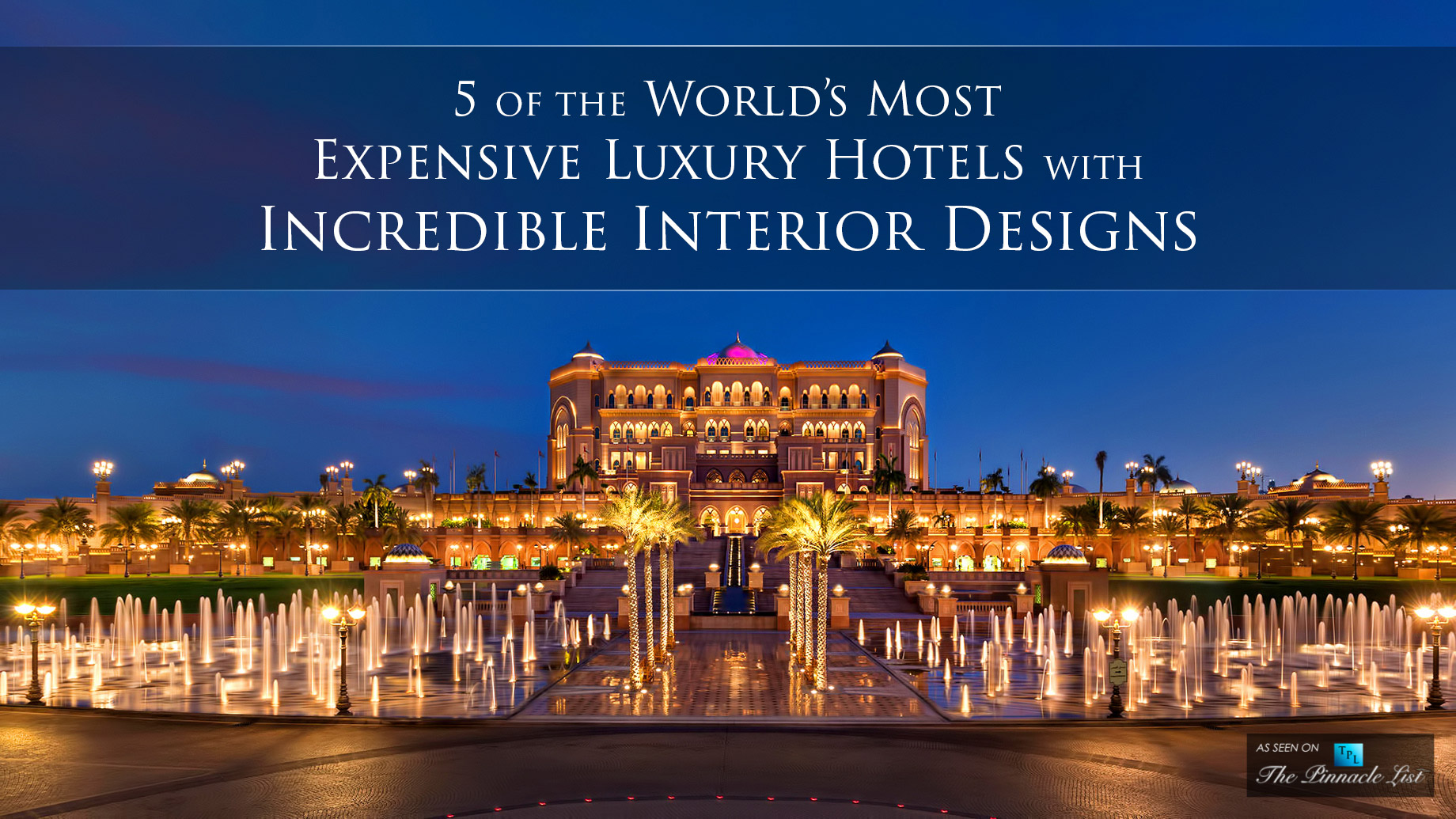 Be our guest: It's all five-star service in this decadent countdown of the world's most expensive luxury hotels.
Emirates Palace – West Corniche Road, Abu Dhabi, United Arab Emirates
Costing a whopping $3 billion to construct, the Emirates Palace has 394 rooms and suites, 40 meeting and conference rooms, making its visitors feel like royalty. Outside there is a glorious white sandy beach, a whole host of pools and fountains a luxury spa, and the most prestigious marina development in the Middle East.
Interior:
The floors decking the Emirates Palace are made from the marble imported from 13 different countries, and sit underneath over 1,000 crystal chandeliers.
Atlantis Resort – Paradise Beach Dr, Suite 19, Paradise Island, Bahamas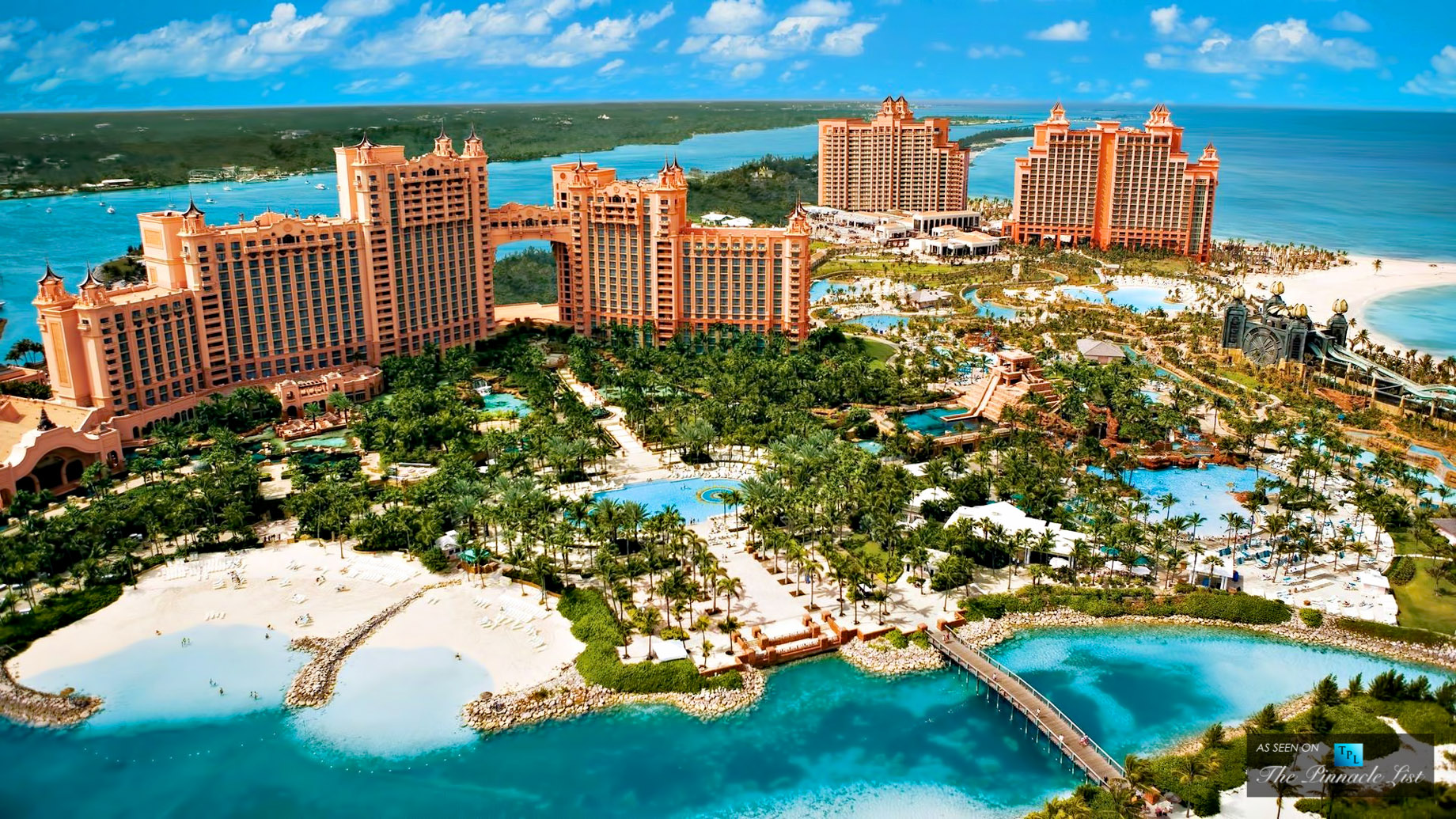 The Atlantis Paradise Island resort was built as a tribute to the legendary lost city of the same name. It is a 141-acre premier luxury resort and one of the finest, not just in the Bahamas but in the Caribbean as a whole. It's the Royal Towers Bridge Suite, which joins the two buildings and can be found on the 23rd floor, that is the really smart part of the hotel. Spanning ten plush rooms, topped by 12-foot high ceilings and full sized windows, and a grand piano. The suit, one of the most expensive in the world, also has twin entertainment centres, a formal dining room with a 22-karat gold chandelier, whirlpool tubs, and a permanent staff of seven to cater to your every whim and fancy around the clock.
Interior:
The walls are laced with painted stencilling, tickled with gold glitter, while the intricate architectural detail creates an air of elegance and grandeur. The grand foyer boasts marble flooring throughout and gold edged mirror with a powder bath.
Palms Casino Resort – 4321 W Flamingo Rd, Las Vegas, NV 89103, United States
Over its long history, the Las Vegas Palms has established a name for itself as one of the casino hotels that truly caters to high rollers. The luxury rooftop suites are where it really excels, however, especially the cool Hugh Hefner Sky Villa which costs around $40,000 a night. You can fit a party of around 250 people in there and thrillingly boasts a huge rooftop Jacuzzi that hangs directly above The Strip. The effects are completed by a private glass elevator, rotating bed, gym, sauna, media room, full bar, and more. Perfect before you head downstairs to the wonderful 95,000-square-foot casino below. The casino finds time to include everything you could want from a casino, from the latest and loosest slots to all the classic casino games, like slots and blackjack.
Interior:
Famed for its spacious and sophisticated interiors, the hotel suites are a minimum of nine-foot, layered with hardwood and marble floors.
The Westin Excelsior – Via Vittorio Veneto, 125, 00187 Roma, Italy
Built in 1906, The Westin Excelsior Rome lives in the upmarket Roman district of Via Veneto. The rooms here are surprisingly affordable given the reputation its carries. This is not counting, their piece de resistance, the Villa La Cupola Suite that has undergone a relatively recent $7 million renovation. This luxurious hideaway lives on two floors, making it the largest suite in the whole of Italy.
Interior:
It has been lovingly furnished in a grand old time style, flourished with modern high-tech gadgets and Wi-Fi, its own private fitness room, steam bath and Jacuzzi, formal dining room, cathedral style domes and a sauna. Post refurbishment, its more contemporary than before, complete with stylish furnishings, new chrome fittings in the bathrooms and a nice new and updated colour palette in the bedrooms.
The Plaza Hotel – 768 5th Ave, New York, NY 10019, United States
New York is a city packed with a massive amount of legendary and swanky hotels, of which one of the main and most important is The Plaza. Built in 1907, the iconic structure was designated as a National Historic Landmark in 1969.It is very often the preferred choice for visiting VIPs, such as international politicians and stars of television and music. The Royal Plaza Suite over looks central park and is able to boast the best views of Manhattan and its famous skyline. The hotel has appeared in many films including Brewster's Millions, Sleepless in Seattle and Home Alone 2 (Lost in New York) due to its appearance and location.
Interior:
The insides are palatial, loaded with imperial, old world charm. The opulent suites come with a formal dining room, a gymnasium, a library, a grand piano, a butler's pantry and, for those that bring along their own personal chefs, a full kitchen. Each room also comes with its own private elevator, while the traditional interiors come with crystal chandeliers, gold and brass-plated fixtures, marble floors, fresh flowers and tall, stained-glass ceilings.