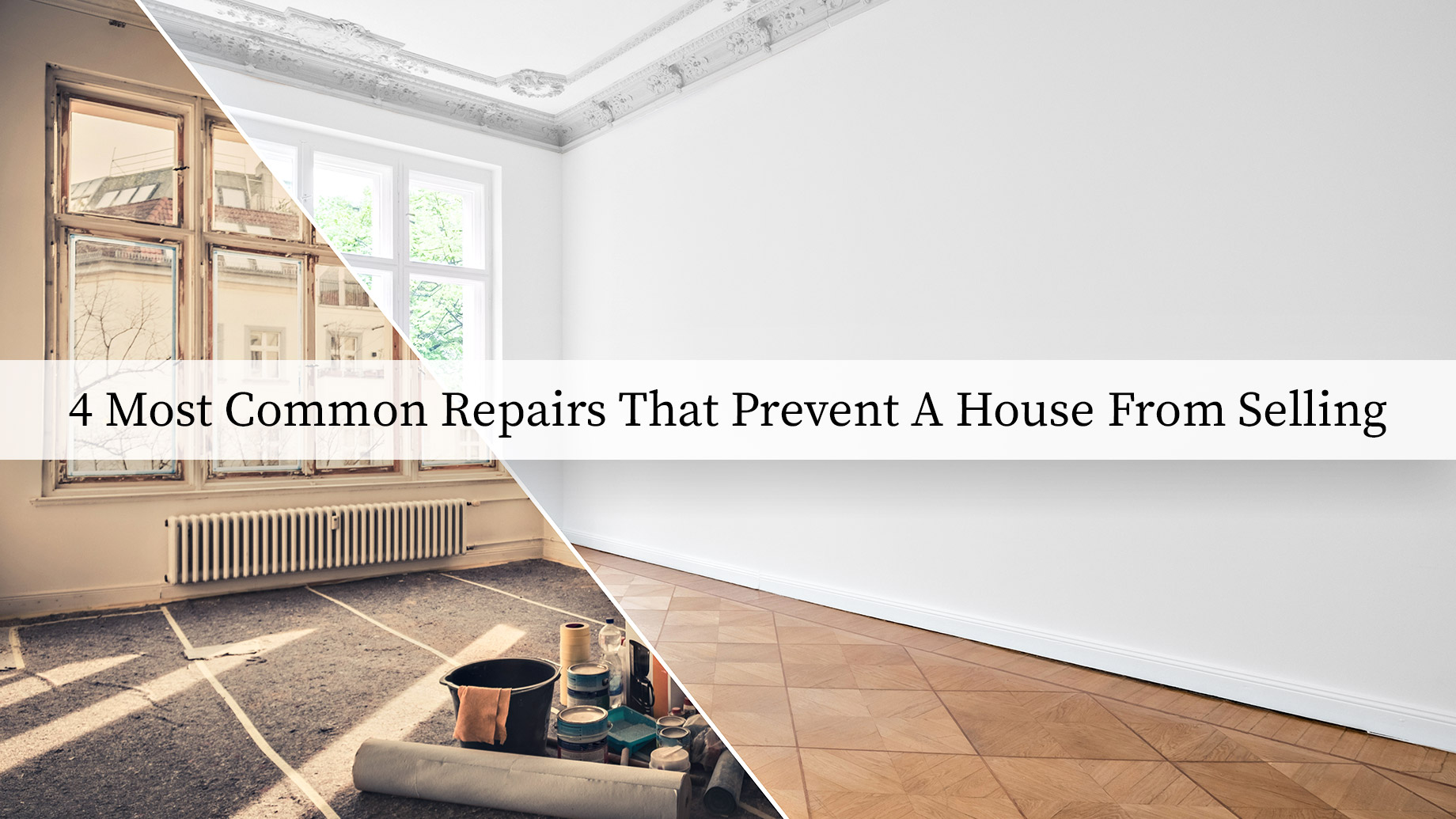 Selling your home is both exciting and exhausting. If you want to sell it fast, you may need to repair essential areas of your house. If you don't make the necessary repairs, you may end up listing your house in the market but won't close any deals.
There are common repairs that prevent your house from selling. Here are some that you may need to fix or repair before you put it on the market:
1. Foundation Problems
If you have foundation problems, don't sell your house as-is. Chances are, potential buyers will get disappointed. Although you may be able to sell a house with foundation problems, it may be a low deal.
Your house may have more value than their low deals. Thus, you shouldn't forget or ignore these signs of foundations problems:
Water in your house perimeter, crawl spaces, or basement
Large cracks in the foundation
Gaps between ceiling and walls
Cracks in ceilings or walls
Sloping staircases or floors
Cracks in the glass
Windows that are hard to open
Doors that don't latch shut or stick
Misaligned windows and doors
When left unrepaired, they can become more serious, making it more expensive. Even if you tell these issues to your potential buyers, they'll be hesitant to buy your house, and some may even require you to fix your foundation problems first.
That's why you should repair your foundation problems before listing in the market. Buyers won't buy houses with foundation problems because they may not obtain a mortgage loan because of such problems.
Even if you try to hide such problems, an inspector will detect any damages to your foundation. Thus, it's still best to repair foundation problems before selling a property.
2. Home Interior
Aside from your foundation problems, home interior issues may also prevent your house from selling. Thus, you should check the following common problems when it comes to interior surfaces:
Circuit Breakers And Electrical Panel: When you have an older system, you should update or replace them. Since there are modern appliances and gadgets, older electrical systems may not handle the load. This may result in fire outbreaks and the like. Of course, your potential buyers won't want to experience such problems in the future.
Carbon Monoxide And Smoke Detectors: Before selling your home, test your detectors and replace their batteries if needed. You should also ensure that they're less than ten years old.
Heating, Ventilation, and Air Conditioning (HVAC) System: Before showing your home, your HVAC system should be in order. Hire an HVAC expert to assess your system. They can tell you if there are damages you can repair or change.
Water Heater: All of your water heater pipes should have insulation. They should not leak and must be in good working condition as well.
Flooring: Whether you have a carpeted or laminated floor, you should ensure that they're in excellent condition. If you must, replace dented hardwood flooring and refinish scratched or cracked floor tiles.
Ceilings And Walls: To refresh your walls, you can repaint them since it's the easiest and cheapest way to refresh them. You should also remove wallpapers that resonate with your style.
As for ceilings, you should repair or repaint discoloration due to water damage. You should also repair dents, minor dings, and nail holes in your walls or ceilings.
3. Roof
Although roofs can last up to 20 to 50 years, it's still best to change them when it's 20 years old or when it's already severely damaged. Especially when it lacks regular maintenance, it can wear quickly.
Your chances of selling your home with roof issues decrease because a damaged roof is dangerous. For instance, a leaky roof can cause water damage throughout your house. This will also lead to long-term damages, such as mold or rot. It can even damage your walls and floors when water damage isn't stopped.
Don't wait for potential buyers to require you to replace or repair your home's roof. Instead, you should do this before listing your house so you can sell your house fast.
4. Basement Issues
If you have problems with your basement, you're more likely to experience a drenched or leaky basement during the rainy season. Hiding basement problems such as water damage can lead to lawsuits. Thus, you should either inform your potential buyers about it or fix your basement before listing it in the market.
Even if you're honest about the water damage in your basement, some buyers won't like to inherit this problem. Like other issues, they may require you to fix it or, worse, they'll shy away.
One way to fix this problem is to waterproof your basement. Although it may require you a complete interior waterproofing project, it'll help increase your home's value. Not only in the interiors, but you may also set up a full system on your home's perimeter.
Here are ways to waterproof your basement:
To avoid water seepage, you may want to waterproof the concrete of your basement. This is best when your basement is a storage area. You can also use silicate sealers, which can repel water without compromising the look of your basement.
You may also want to install a sump pump. This will redirect water away from your basement. You can install it in the deepest area of your basement.
Before you waterproof your basement, make sure to remove water-damaged materials. This includes flooring, waterlogged drywall, and carpeting. That way, you can remove any residual moisture that's in your basement.
Conclusion
Selling your home as-is means you're selling it without repairing or renovating it. You may not have to spend on repair costs, but you may get low offerings; sometimes, even lower than your home's value. The worst is the failure to sell it because buyers don't like to own a property with too much damage.
To avoid this, you may want to consider the mentioned common repairs. Before listing your property, make sure your foundation, interiors, roof, and basement are all in good condition. With this, more potential buyers are more likely to buy your house.