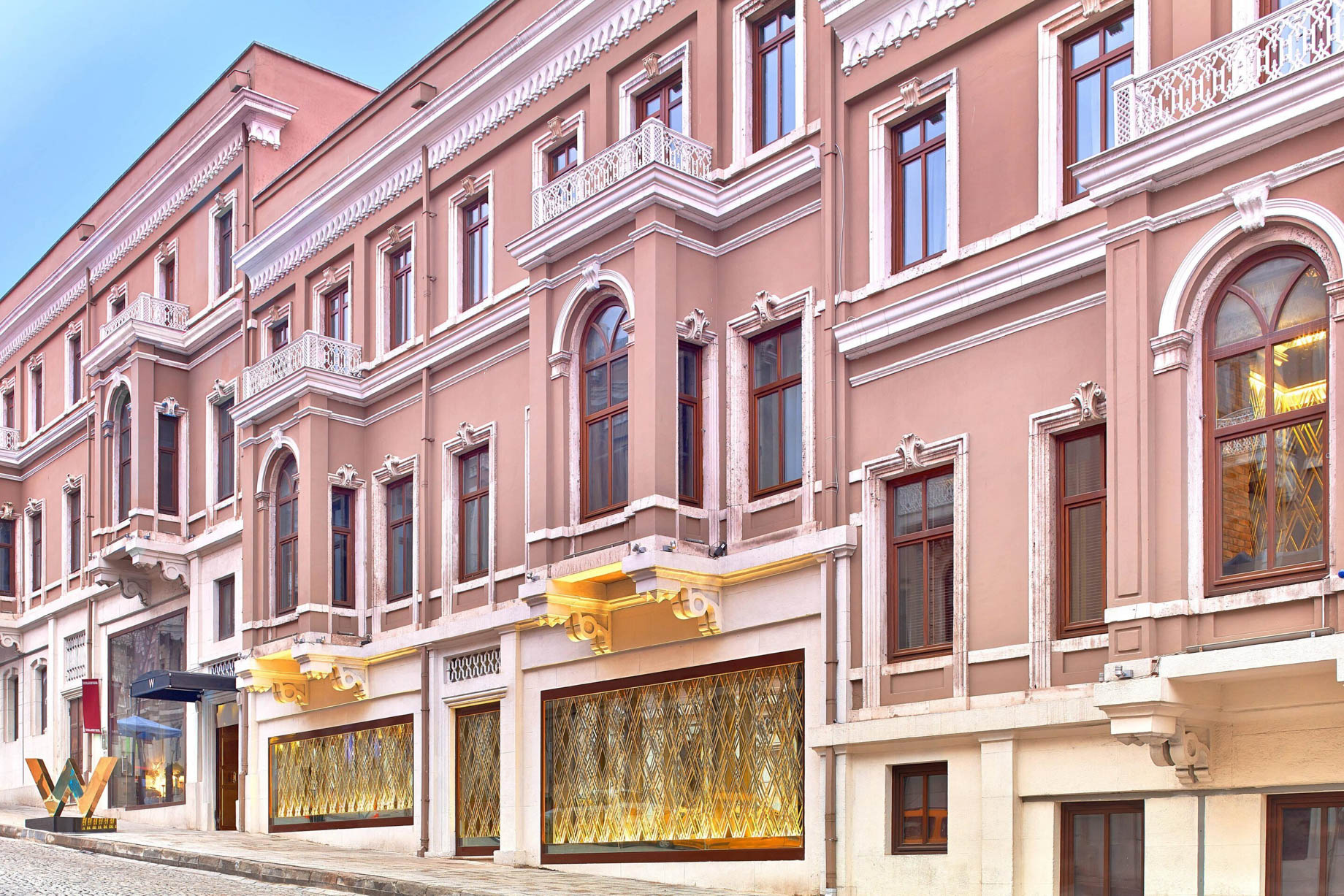 Name: W Istanbul
Rooms: 134
Rating: 5-Star
Brand: W Hotels
Parent: Marriott International
The W Istanbul Hotel is the modern centerpiece of the historic Akaretler Row Houses in Istanbul, Turkey, an upscale neighbourhood filled with restaurants, cafes, and design & art galleries. W guests can explore the authentic and local area of Besiktas and the upscale shopping district of Nisantasi amidst gilded domes and minarets.
Dynamic finance and chic shopping here, old city and monuments there. It's always the best of both worlds at the W Istanbul. Enjoy charismatic spaces, bulk up or slim down in the FIT gym, recharge in the spa or strut into the W Lounge, restyled with Ottoman Empire influences and custom modern touches. Mix and mingle with cocktails and DJ beats. Live like a king in the W rendition of opulent seraglios for modern explorers in rooms and suites with garden, terrace, or cabana adorned with Wi-Fi, flat screen TVs, signature W beds and a whimsical harem of stylish luxuries.
Make yourself at home in Beşiktaş at W Istanbul. Ultra-modern hotel rooms showcase sleek modern furniture, plush velvet seating and mood lighting for a playful yet sophisticated vibe. Each suite is uniquely decorated with fashion-forward design elements and vibrant pops of color that are sure to keep you inspired. Call it a wrap and get some shut-eye on the signature W beds with crisp cotton linens and ruby-red satin duvets. Private outdoor cabanas and lounge areas are ideal for soaking up the fresh air and views of Old Istanbul. Freshen up each morning in our pristine bathrooms with Bliss Spa bath amenities and rainforest showers. Getting hungry? Curb late-night cravings with our W MixBar offering tasty snacks and refreshing beverages.
Get backstage access to Istanbul's vibrant social scene at W Istanbul. Formerly known as Byzantium and Constantinople, the city intrigues visitors to Turkey with a combination of historic architecture and modern design. Traditional hammams and hookah lounges reside alongside modern rooftop bars, contemporary museums, and premier shopping. The hotel offers guests easy access to a metro station and a prime location near some of the city's most coveted places to eat, play and shop. Sip handcrafted coffees and cocktails
at the lively cafes near the Bosphorus waterway or taste the vibrant flavors of Istanbul at local eateries.
Tour the nearby Sultan Ahmed Mosque, known as the Blue Mosque, a historic center of worship with an ornate facade and six grand pillars. For a truly illuminating experience, cruise the Bosphorus at sunset on a glam luxury yacht. Keep it fun with a traditional Whirling Dervish Ceremony in Taksim Square that's sure to be a crowd-pleaser. Amplify your visit with a stop at Nisantasi, Istanbul's epicenter of style where boutiques showcase internationally renowned fashion designers. No matter what kind of excitement you crave, W Istanbul puts you in the center of it all.
Location: W Istanbul – Suleyman Seba Cad No 22, Akaretler, Istanbul, 34357 Turkey