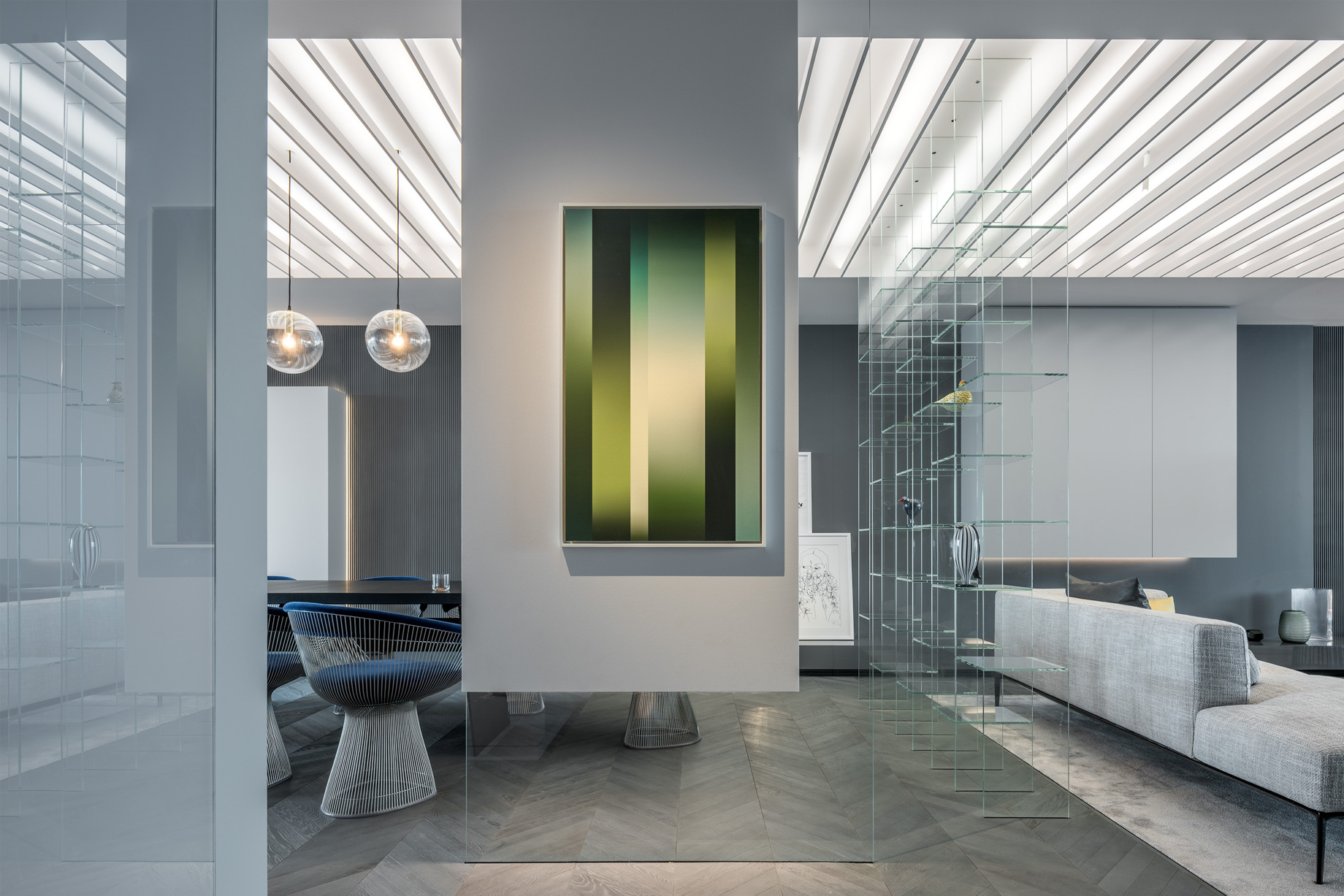 Type: Interior Design
Style: Modern Contemporary
Status: Realized
Located in the Schwarzwald apartment towers project in Putuo, one of Shanghai's ten inner-city boroughs, designer Ippolito Fleitz Group – Identity Architects has developed interior designs and furnishing concepts for two apartments in house 11. The firm used a modern vocabulary of contemporary design integrated into the elegant and tranquil spatial quality to masterfully turn a 250-square-metre apartment into a metropolitan sanctuary with breath-taking views of Shanghai's skyline.
Herringbone-patterned parquet flooring in dark grey literally lays the foundation for the "Shades of Grey" theme, whereas contrasting hues of green and blue create highlights and support the apartment's modern, elegant, and calm atmosphere. The contrasting, yet matching mix of materials creates an atmosphere of both calm intimacy and excitement in the living area. Materials with exciting haptic features and smooth marble and mirror-glass surfaces, while earth and gold-toned accessories provide an extra touch of luxury.
True to its name, the central theme of the "Shades of Grey" show apartment focusses on a full range of grey nuances. With its elegant and meditative calm, the apartment would perfectly suit a globetrotter's desires after a long and tiring trip. Layers and interactions of premium materials, fascinating textures and high-contrast surfaces organically create an interior that is a place of tranquillity and relaxation.
Designer: Ippolito Fleitz Group – Identity Architects
Name: Show Apartments House 11
Client: China Eagle Group, Shanghai
Photography: Sui Sicong
Year: 2017
Location: Putuo District, Shanghai, China