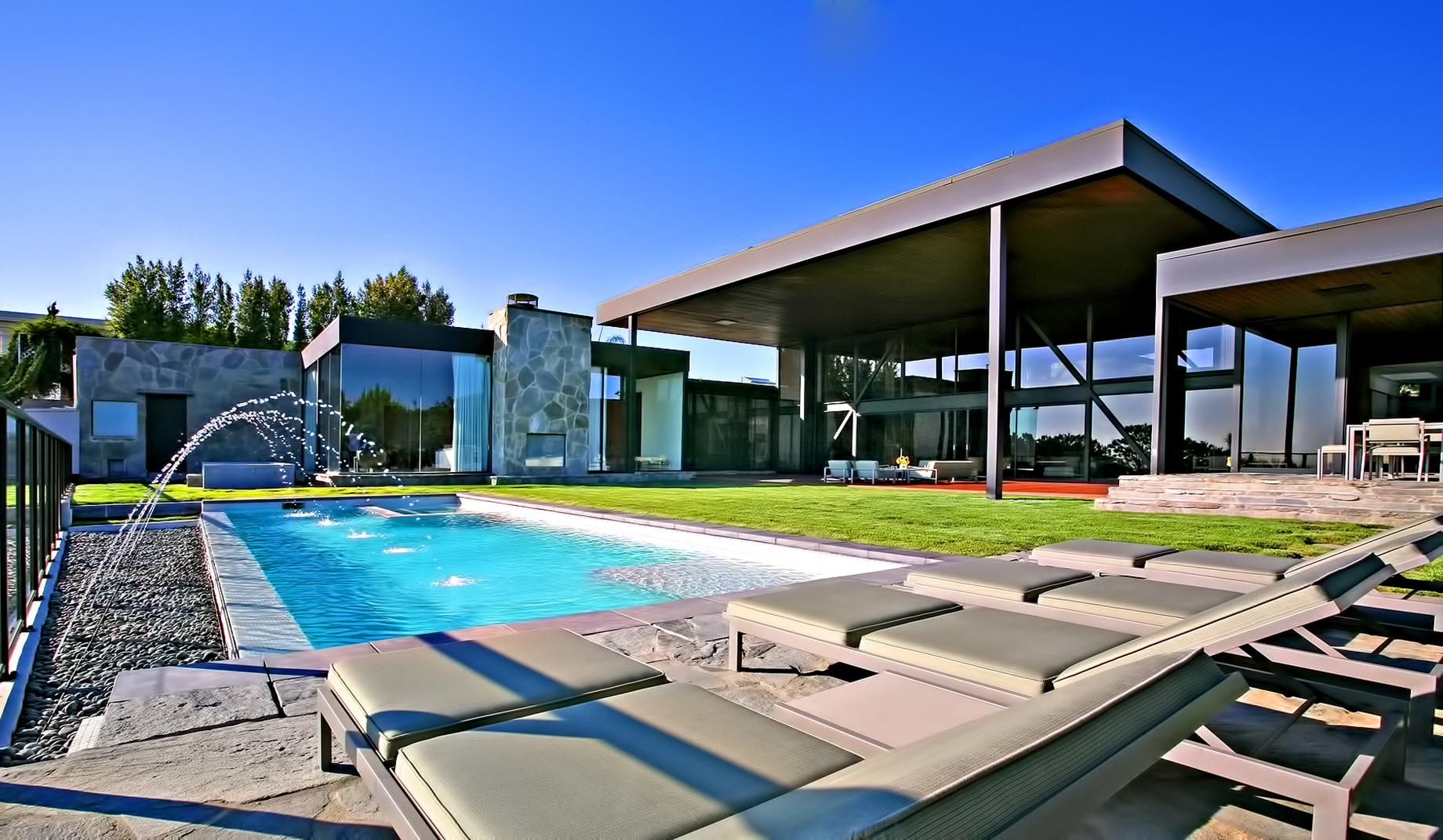 Type: Trousdale Estates Luxury Residence
Price: $10,280,000 USD – (Sold: Oct 22, 2010)
Bedrooms: 5
Bathrooms: 5.5
Levels: 3
Size: 8,036 sq. ft.
Lot: 0.35 acres
Tax Value: $10,639,355 (2014)
Property Taxes: $123,554 (2014)
Built: 1973
Renovated: 2012
Originally designed in 1973 by architect Amir Farr, this 8,032 sq. ft. Trousdale Estates luxury home in Beverly Hills has an ownership pedigree that includes actor Matthew Perry and film producer Oren Koules. Made of glass, steel, stone and redwood, the voluminous residence has spectacular retractable walls of glass with phenomenal panoramic views that overlook Los Angeles to the east and out to the Pacific Ocean to the west.
After an exhaustive search of Los Angeles' ritziest neighborhoods Lance Collins, the 50 something entrepreneur who reportedly sold Fuze, the beverage company that he founded, to Coca-Cola for upwards of $250 million in 2007 bought the five-bedroom luxury home in Beverly Hills so that he could purportedly be closer to his teenage daughter. Collins is now working on a drink called Body Armor through his company BA Sports Nutrition LLC with his partner, Mike Repole who co-founded Vitamin water, which was also sold to Coca-Cola in 2007 for $4.1 billion.
Understanding the unique architectural history of the residence, Belgian-born designer Maxime Jacquet was hired to redesign the interior of the residence with respect of Farr's original vision. Billed as a Beverly Hills Golden Age restoration, the designer created a sublime living environment that intentionally captures the 70's concept of open space with an all earth tone color pallet, making it into a home with a perfect balance of tradition and modernity, luxury and rigor, and fashion and comfort.
Architect: Amir Farr Architect 1973
Designer: Studio Artline Inc by Maxime Jacquet
Photography: Jeffrey Ong
Owner: 2010 – Lance Collins – BA Sports Nutrition LLC and Former Fuze Beverage Founder (Purchased: October 2010)
Past Owner: Oren Koules – Film Producer
Past Owner: Matthew Perry – Actor
Location: 630 Clifton Pl, Beverly Hills, CA 90210, USA