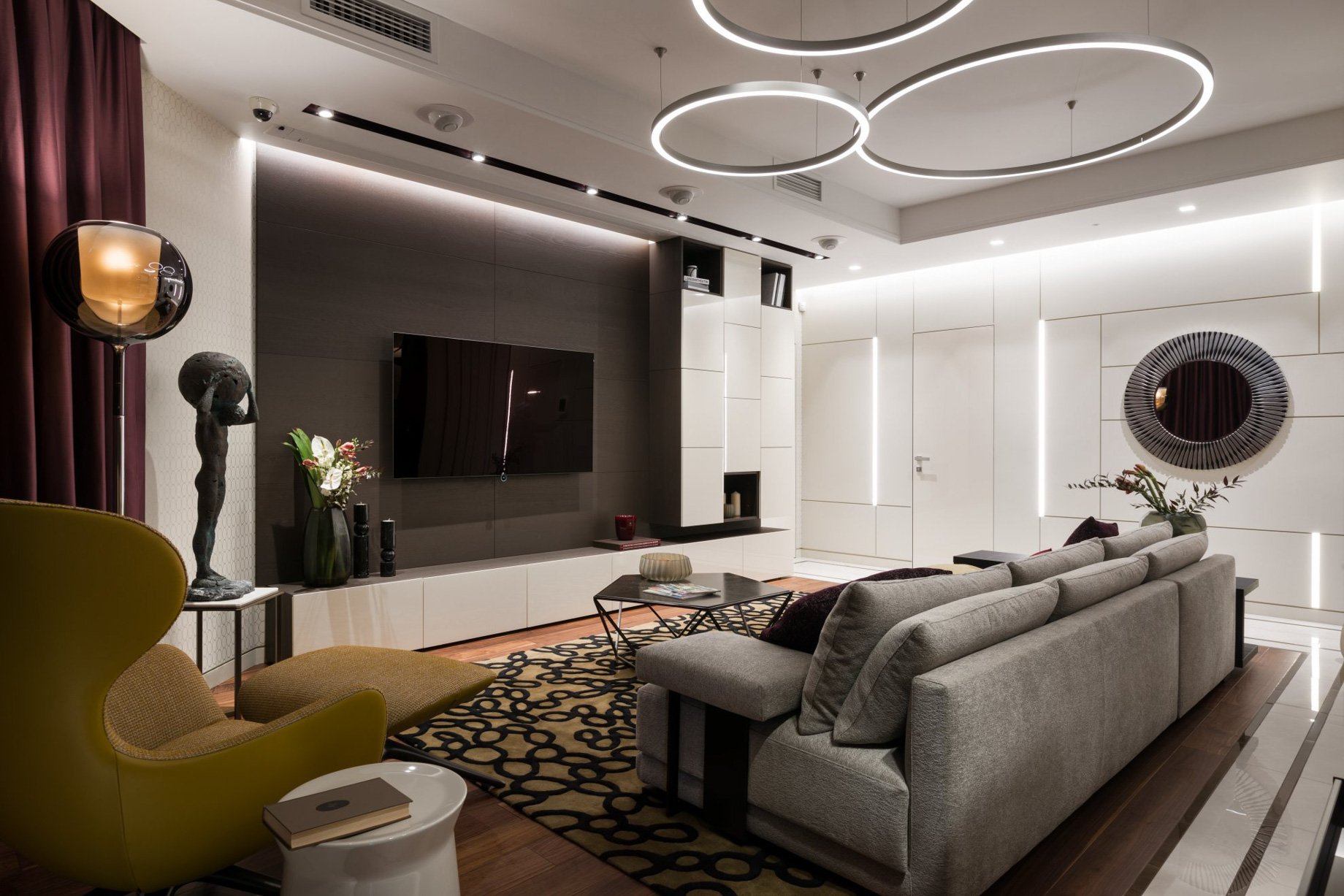 Type: Interior Design
Style: Modern Contemporary
Status: Realized
The Сream style interior project is a balance between contrasting colours and shapes. The client's main desire was to use her favorite colour, purple. To ensure the interior did not feel cold, we complemented the purple with a warm creamy-beige shade on the walls. Smoky glass and bronze mirrors play tricks with the light, emphasising the depth of space and expressive forms created by the refraction of light.
The specific features of the living room are a wall with paneling, built-in doors and overhead lighting. An American walnut floor epitomises the individual style and is a stark contrast to the light walls. The Bristol model sofa from Poliform with accent pillows from Loro Piana fits perfectly with the decor. The functionality of the interior is further improved by the addition of a showcase from Rimadesio fashioned from dark smoky glass.
The Veneta Cucine Kitchen fits seamlessly into the common space of the apartment. The facade, as a continuation of the walls, is the same color and material as the wall in the living room and bronzed mirrors were placed at opposite ends. The dining area was sourced from the Italian factory Cattelan Italia.
In the design of the recreational area, the client requested a bright bedroom with a white leather bed. Bulky Elitis wallpaper feathers accentuate the "puffy" shape of the bed, and this area is enriched by a carpet covered in Nanimarquina felt rose petals.
Unconventional, for a bathroom, woodworking tiles created an atmosphere of coziness and intimacy in this space. We also chose furniture with clear geometric shapes and minimalist aesthetics from the Italian factory Arbi.
The interior for the children's room is furnished in shades of blue and complemented by accents in the form of stars. It was important for us to create a space that was as functional as possible using natural materials, so we chose items from the Italian factory Zalf. The sofa is a simple shape with a combination of coarse Roma flax and velvet from Dedar.
Designer: Nataly Bolshakova
Name: Cream Style Interior
Property: Apartment
Location: Kiev, Ukraine
Year: 2020
Photography: Andrey Avdeenko