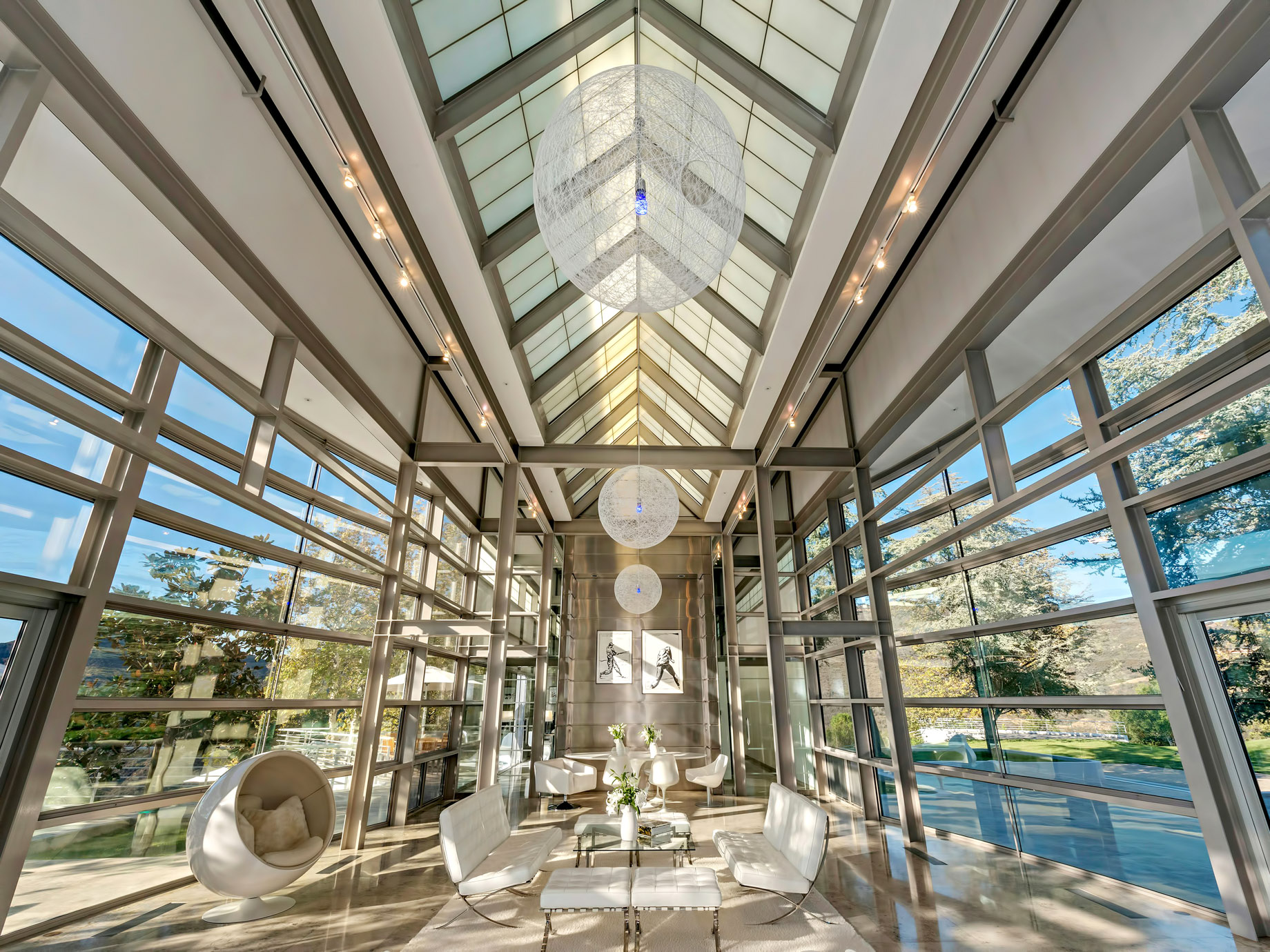 Name: Henman House
Type: Private Mountaintop Estate
Price: $9,200,000 USD – (August 2014)
Bedrooms: 5
Bathrooms: 6
Size: 7,050 sq. ft.
Lot: 15.94 acres
Tax Value: $4,041,069 (2013)
Property Taxes: $46,109 (2013)
Completed: 1993
This distinctive glass and steel luxury estate is a work of art that you can live in. Set atop a large promontory overlooking the Malibu canyons below, the dramatically architected residence sits on over fifteen acres of green lawns with unobstructed mountaintop white-water views out to the blue Pacific Ocean and across the Santa Monica mountains.
This glass-and-steel masterpiece has become somewhat of an architectural icon in Malibu over the years. Known locally as the Henman House, the spectacular residence was built in 1993 by renowned FAIA architect, Ed Niles. The distinctive "glass cathedral" like structure features a 5,904 sq. ft. open plan interior with soaring glass exterior curtain walls and uniquely designed skylights that run through the center of the home creating an amphitheater of sunlit space throughout the interior of the iconic residence.
The vertiginous Henman House residence is a modern manifestation of luxury. The private gated estate incorporates amenities befitting rock star royalty including an underground music studio, a sixty-foot lap pool overlooking the California coast, a helipad that doubles as a driving range, and an underground garage with a full complement of parking for up to twenty-five cars on the property. All this with an unrivalled location surrounded by dramatic mountains with endless jaw-dropping views that is as inspiring as the monumental architecture of the residence.
Architect: Ed Niles Architect
Owner: (2013) Director Graham Henman and fashion stylist Paris Henman of Henman Guitars.
Location: 33583 Mulholland Hwy, Malibu, CA 90265, USA