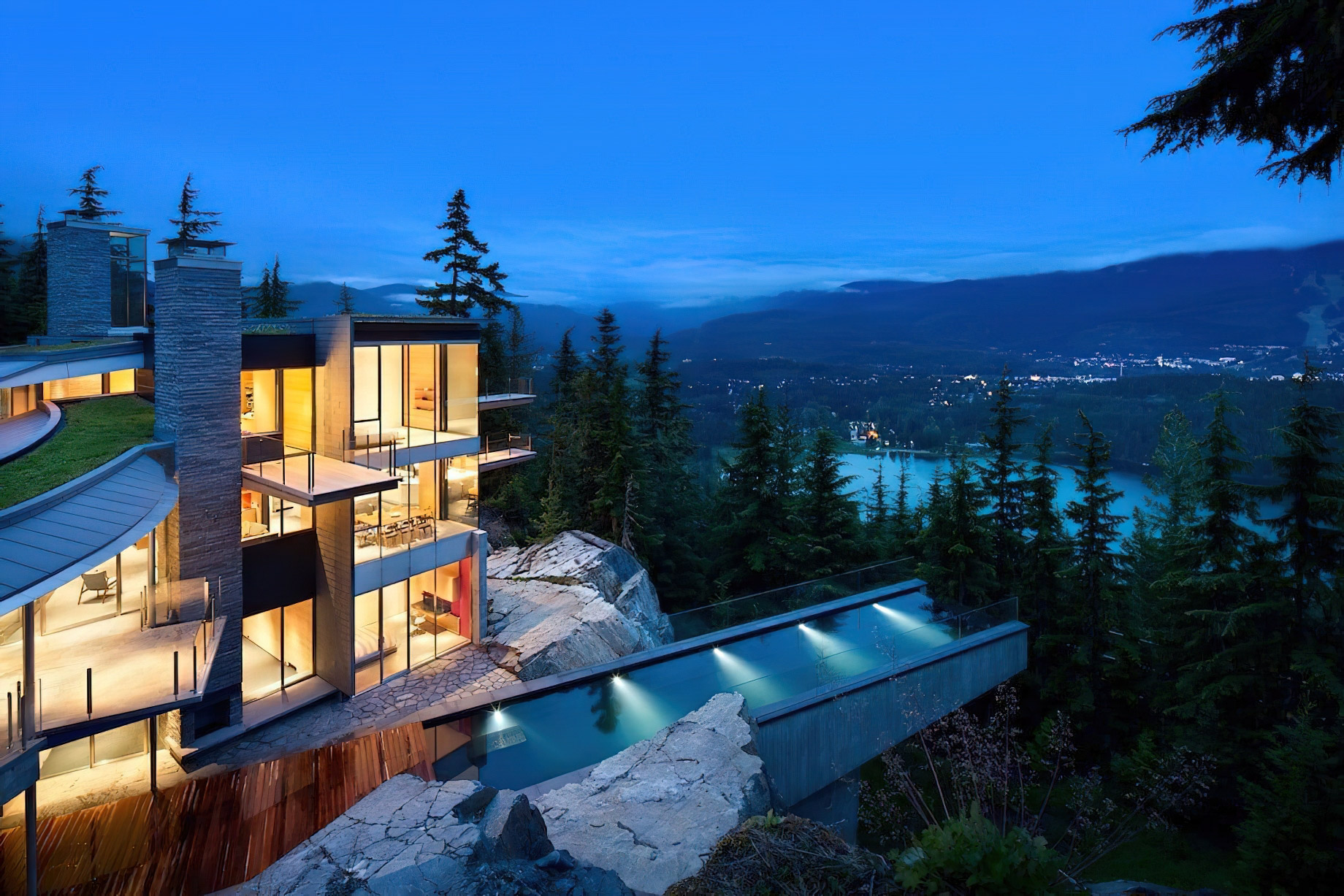 Name: Amanderu Estate
Type: Modern Contemporary
Bedrooms: 6
Bathrooms: 8
Size: 8,700 sq. ft.
Lot: 7.6 acres
Built: 2014

Perfectly situated atop a 640-foot rocky outcrop high above Alta Lake in Whistler, British Columbia, this private home features an absolutely astounding suspended infinity pool which slices through and cantilevers 40' over the edge of a rocky precipice intently reaching to the distant horizon. The residence reflects the extraordinary shape and contours of the landscape with incredibly breathtaking panoramic views at every angle across the valley and over the lake to the world-famous ski resort of Whistler and Blackcomb and the surrounding mountains.
A small spike of this architectural marvel perched high on a rock ledge overlooks the steeply ascending mountainous drive to the property. At the road's peak, a narrow drive is carved through solid rock to arrive at a court flanked by rugged stone and a sleek metal wall. Here a shimmering blue, glass passageway opens to a verdant courtyard that serves as an oasis for outdoor gatherings and children's play. It is rimmed on one side by a grove of aspen.
Concrete cones mark key spaces beneath as they reach to the sky for light. Geothermal wells are buried in the earth as the surrounding building reaches out over the edge of the site. An arced blade of roof supported by slender stainless-steel columns encircles the remaining courtyard as the crystalline building occupies the threshold between the manicured court and pristine wilderness.
A heavy bronze door marks the entry to the house where the peaks of the Whistler and Blackcomb Mountains are first seen. The building, composed of several volumes radiating from the lawn, is informed by a Fibonacci sequence that manifests itself as a golden spiral in the landscape.
The three-story boxes are lined with reclaimed wind fall Douglas fir and have large expanses of glass, each revealing a distinct view of the Whistler Valley and resort as well as the Coast Mountains of British Columbia with terraces and cantilevered porches that visually extend spaces into the landscape.
The building evolved into an inevitable form on this site inspired by the owners' desire for a seamless connection to the natural world. The construction is detailed to assimilate the outcroppings and crevices of the rocky terrain and in turn revere them.
Architect: Bohlin Cywinski Jackson
Builder: Durfeld Constructors
Pool Systems: Alka Pool
Photography: Ema Peter, Nick Lehoux
Location: 5462 Stonebridge Dr, Whistler, BC, Canada