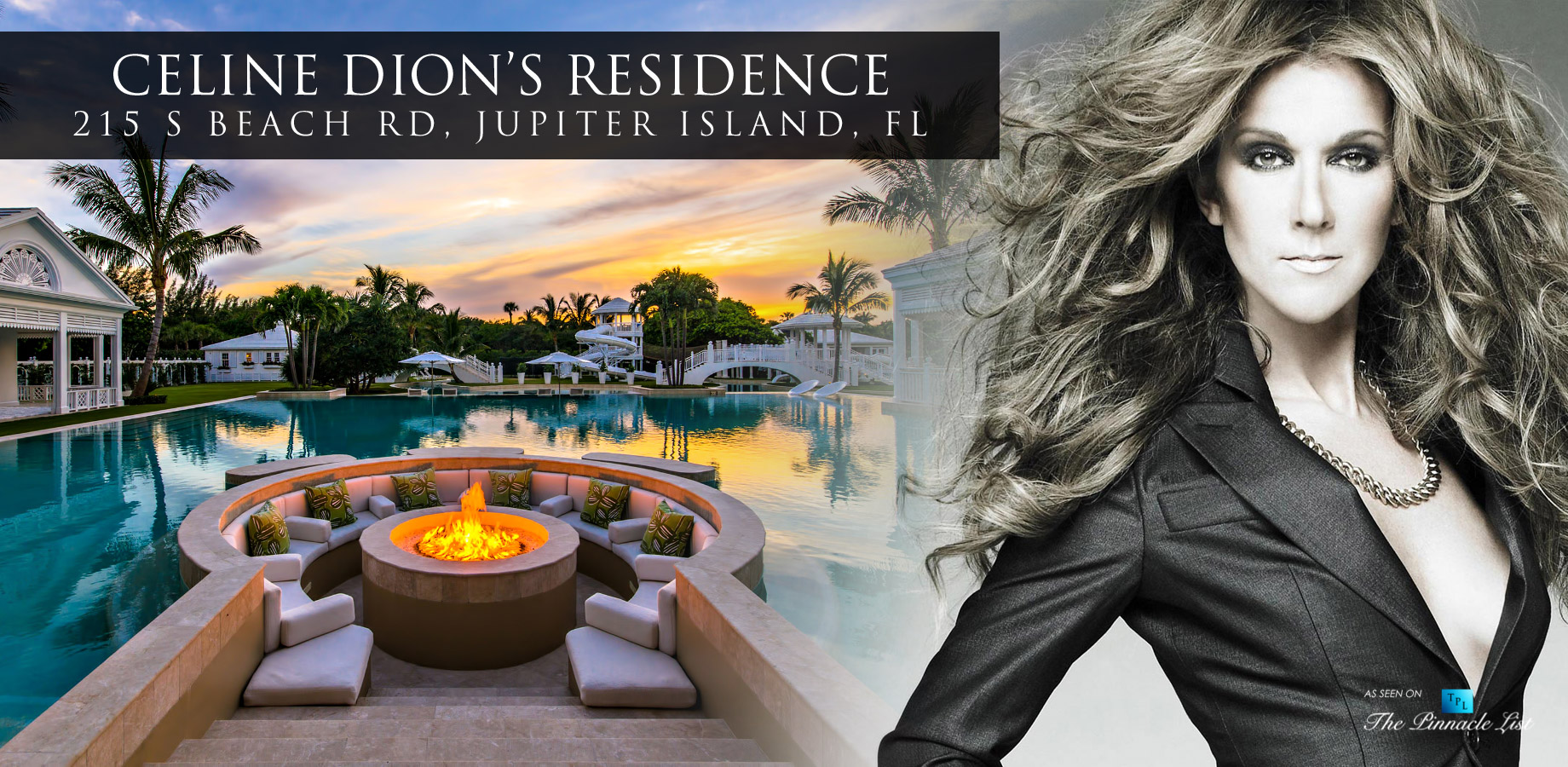 Name: Celine Dion Residence
Price: $72,000,000 USD (Dec – 2013)
Main Residence: 10,000 sq. ft.
Total Estate Size: 16,478 sq. ft.
Bedrooms: 17
Bathrooms: 24
Pool System: 500,000-gallon aquatic Water Park with three separate resort quality pools including professional twisting water slides, a slow current lazy river, a child friendly bridge and a pool house.
Recreation: Gym in beachside cabana, tennis court and tennis center, full fitness studio and golf simulator room.
Guests: Double 4-bedroom Guest Homes (for a total of 8 bedrooms) on the property.
Staff: Separate staff quarters and elevator.
Garage: Multi-car automotive pavilion.
Security: Perimeter fencing and monitored security system ensures privacy.
Frontage: 415 linear feet of Atlantic Ocean beachfront.
Property: 5.7 acres
Built: 2010
Tax Value: $18,877,936 (2012)
Property Taxes: $347,644 (2012)
The crown jewel of Celine Dion's real estate holdings is this 5.7-acre Jupiter Island estate located right on the banks of the Atlantic Ocean in Florida. Currently the largest waterfront estate in the ultra-wealthy and exclusive community of Jupiter Island, the estate was built to satisfy Celine Dion and her husband Rene Angelil's craving for privacy by creating a true 'resort-style' water park within the boundaries of the estate for their own personal family enjoyment. This is the kind of luxury that can be afforded by being one of the top selling recording artists worldwide.
The main 5-bedroom residence comprises of approximately 10,000 sq. ft. with a second level wraparound terrace and covered veranda, all with spectacular ocean views. A formal dining room with vaulted ceilings and a gourmet kitchen with an ocean-view family room are just some of the unique features of the open concept floor plan. In true Diva fashion, the luxurious master suite includes an enormous custom designed extravagant walk in closet fitted with automated carousels for shoes and racks for clothing.
The custom built Bahamian-inspired estate is made up of 5 separate individual pavilions including two separate 4 bedroom guest homes (8 bedrooms total), a tennis house with simulated golf range leading to the tennis court, a pool house with built-in grill and separate kitchen and a beach house with second floor sleeping loft and massage room.
But the most impressive aspect of the property is the aquatic center made up of a 500,000-gallon outdoor Water Park with two separate interconnecting resort quality pools including twisting water slides and a slow current lazy river with a child friendly bridge. As if that was not enough, there is a third infinity-style pool overlooking 415 linear feet of Atlantic Ocean beachfront at the rear of the property. With this estate, Celine created a private luxury playground for entertaining her family and friends on a level that only a select few in the world could realize.
Owner: Celine Dion – 2013 (Canadian Multi-Platinum Recording Artist)
Photography: Alexandre Parent – Studio Point DeVue