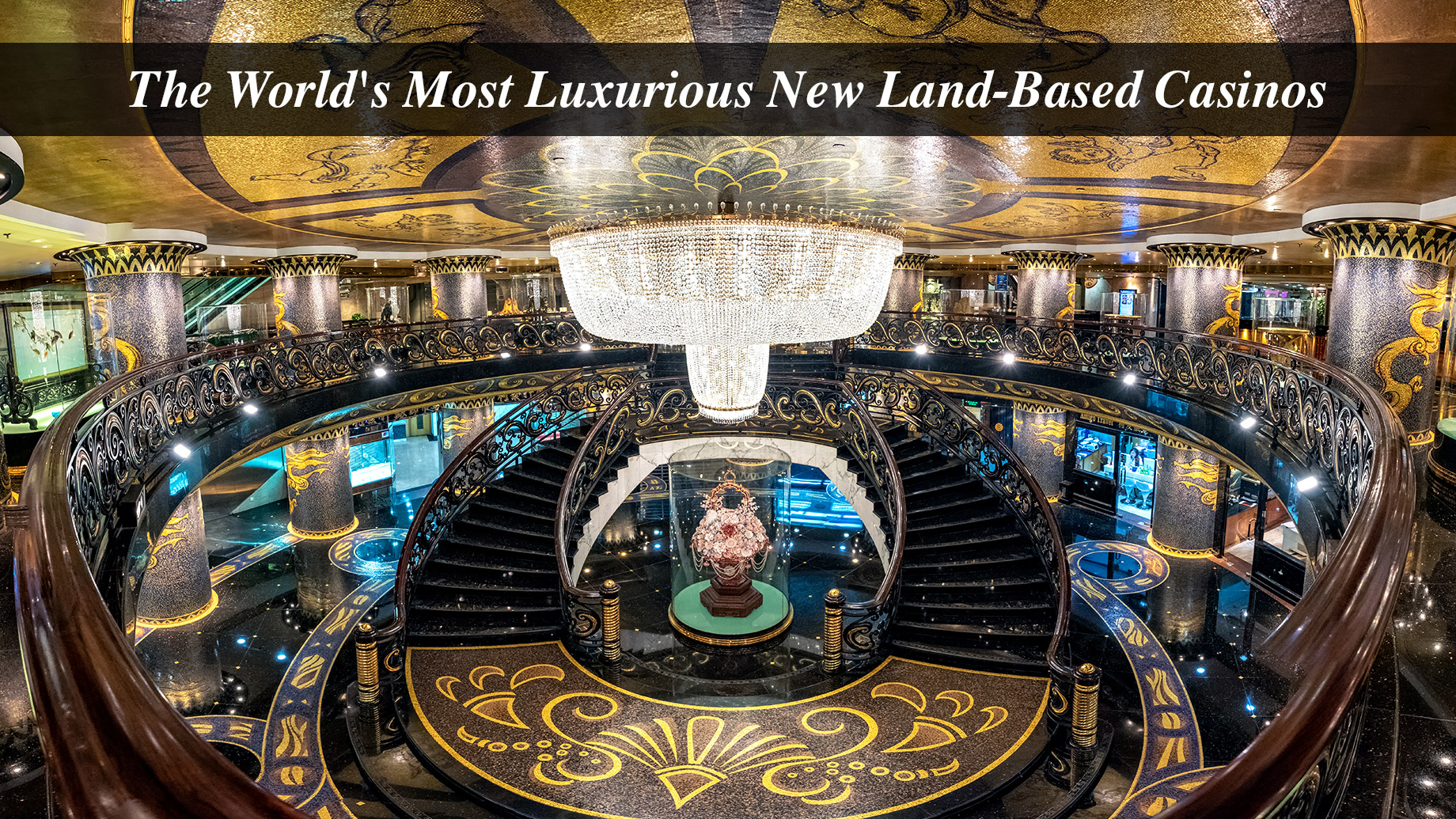 If you read about exclusive land-based casinos, Las Vegas is probably always at the top of the list. Of course, Vegas has always been home to play, but there are so many more fabulous casinos in countries worldwide!
Many top European casinos offer an experience that will compete with anything that Vegas can bring and world-class casinos scattered over other continents. Although that said, we rounded up some of the top casinos that can rival Sin City, offering everyone who visits them an unparalleled entertainment experience.
Here are some of the top new land-based luxury casinos for you to add to your list.
The Venetian, Macau, China
The Venetian covers more than 546,000 meters of space, located on Macau's coast strip, making it the most prominent land-based casino in the world! There are 3,000 games, an astounding 870 tables, 24 high-end bars and restaurants, four swimming pools, and three vast shopping centers in the casino themselves.
Guests can even walk down the canals of Venice through the gondola while inside the casino of Macau! 
The Crown Sydney, Barangaroo Harbour, Australia
Anyone would be happy to be one of the first guests at the brand new Crown Sydney in Barangaroo Harbour if you plan for 2021. The Crown Sydney will open in 2021 and include a 6-star hotel, a massive casino floor, and a visitor platform, allowing guests to enjoy one of Australia's most splendid views.
Why not pop into the casino while exploring the sites Sydney has to offer. Take a boat cruise through the harbor, go to the Sydney Harbour Bridge, enjoy impressive landscapes, or head into the blue mountains.
Tusk-Rio Casino Resort, Klerksdorp, South Africa
Tusk-Rio provides an African gaming experience across a massive, nearly 267,000 square feet floor. Visitors will be able to choose between 257 slot machines, 12 game tables, and an enormous variety of entertainment, retail options and of course dining options as the fifth biggest land-based casino in the world.
Casino Lisboa, Lisbon, Portugal
Casino Lisboa lies in the heart of Lisbon's Parque das Nacoes with a vast, 165,000 sq. ft. game floor. There are 1100 slot machines in the casino and exclusive gaming tables to play poker, roulette, baccarat, Banca Francesca, blackjack, and many more.
The Catskills, New York, USA
World Catskills resorts opened in 2018 and opened their doors to welcome tourists. This resort's casino floor is truly a paradise for gamers. At 100,000 sq m, it has a space of over 150 live board games, 1,600 slot machines, a unique poker room, and a private lounge and high-roller salon.
Framed by some of the world's most beautiful landscapes, surrounded by hills, The Catskills is stunning.
You can reserve one of the luxury resort suites or one of the delicious rooms of the boutique hotel. A luxury spa, indoor pool, gym, Topgolf Swing Suites, and a concierge all provide top-class service. There are plenty of outdoor activities and plenty of great restaurants to help you get back to the casino for an evening.
Casino Baden-Baden, Baden-Baden, Germany
The best, most luxurious casino in Germany is in Kurhaus, just outside the Black Forest. It offers some casino games in its elegant rooms only on specific days of the week, with punto banco, blackjack, baccarat midi, and poker.
Ponte 16 Resort, Macau, China
Located on the Inner Harbour, Ponte 16 is one of Macau's most modern and glamorous brick-and-mortar casinos. The casino has an area of about 270,000 square feet, as well as 320 slots, 423 luxurious hotel rooms, and three separate theme bars.
Ponte 16 is also famous for its uber-cool live international events, where performers worldwide regularly entertain the visitors to the resort and great games.
City of Dreams Casino, Macau, China
This Macau casino is near twice the floor space of Ponte 16 at 420,000 sq feet! Right on the shore of the Cotai strip, the City of Dreams has more than 1350 slots. Exclusive clubs, two live entertainment venues, 14 different bars, and a vast 1,400 luxury hotel suites are also on the menu for visitors.
Foxwoods Resort and Casino, Connecticut, USA
Built on an Indian reservation at over 340,000 sq ft, Foxwoods boasts an unbelievable 7,000 slots and over 400 gaming tables. The resort is a casino and a tiny village with 29 bars and restaurants for those interested in fine dining.
WinStar World Casino, Oklahoma, USA
WinStar is the largest land casino in America and the second-largest in the world! It is more than 500,000 square feet of space, split into eight themed squares based in some of the most attractive capitals in the world.
Over 6,700 slot machines, 45 poker tables, 76 game tables, an off-race race betting place, and a bingo hall for 1 000 players are all located across these massive game floors!
As we said, practicing your gambling online before you hit the casino is a wise move. New casinos without deposits allow you to do this without spending a fortune on various online casino games.
The latest no-deposit casinos feature the latest cutting-edge slot games and table games, with most featuring live casino games for when you are ready to take your game to the next level. Before you bring up your talents to any of the casinos you've learned about in our article, we strongly recommend you practice your skills online!
Online casinos may be on the rise, but nothing will beat being served a glass of champagne as you enter a velvet draped room singing a beautiful song backed by slot machines and laughter. Any one of the casinos mentioned above will make an excellent luxury location for you to try out luck. These new land-based establishments are pushing the boat out to create a luxurious experience for their clients.