Websites have become so crucial in today's world, and the role of a website cannot be overstated. Therefore, website design skills have become critical, especially for tech-savvy people or those looking to pursue careers in computer science or web design.
The teen demographic has been showing profound interest in the digital world. Apart from their interest in technology, they are also the largest demographic for internet users.
Digital devices, the internet, and other technologies have become much more accessible, and teens also have a lot of time to visit different websites and use them for learning and even shopping. Here are web design tips for building a website that teens will engage best with.
1. Ensure It Does Not Lag
Teens are a demographic known to use the internet heavily. This also makes them the most impatient of them all. If your website takes more than four seconds to load, the user will likely quit and go elsewhere.
You do not want to have a website with a high bounce rate and low ranking. The best way to make it appealing to teenagers is by ensuring that it is fast-loading. Optimize the loading speed of your website by first minimizing HTTP requests.
While images are critical to web design, compress them to maintain quality and reduce page loading speed. Choosing the right hosts and reducing the server response time will also help.
2. The Brighter, the Better
Optimizing the colors of your website can increase the conversion rate by 24%. Whether it is an online store or a pay for essay service website, your choice of colors will determine the amount of traffic you will get.
Anything that looks boring is not appealing to teenagers. A brightly colored website will draw their attention, increase their dwell time, and increase conversion chances. As much as you are encouraged to use bright colors, you should create harmony in your selection so that your website does not look too busy and confusing.
3. Make the Website Mobile-Friendly
Unlike older adults, teenagers are less likely to stay seated behind their laptops for 8 hours. They will use the internet, but they will juggle between devices, desktops, and mobile devices. Making your website mobile-friendly will make it attractive to teenagers.
To make the website mobile-friendly, eliminate pop-ups and text blockers. Optimize your button sizes to be large enough for them to use on mobile and keep the design simple.
4. Avoid Creating Content Based on the Teenage Stereotype
Do not make the mistake of stereotyping teenagers and creating content and designs. Note that the teenagers are different and look for other things on a website. You are, therefore, better off designing a website that will reach an individual.
5. Create an Engaging Website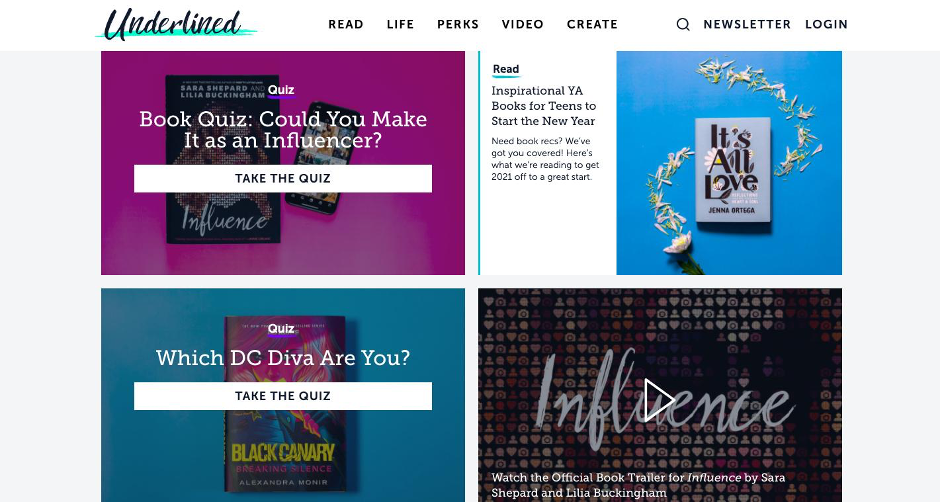 Teenagers are lively and are thrilled by humanized experiences. Create a chat section for the users to ask questions or comment; also, include buttons or links to your social media pages. Teenage users appreciate the opportunity to interact, speak out, and have their concerns addressed in real-time.
6. Use High-Quality Images and Graphics
There is nothing that puts off teenagers than things that scream cheap. No matter how good your content is, if you have poor graphics and images, you are going to put off the teenage audience.
Using high-quality images is one of the things that will make your website stand out from the 1.8 billion existing websites. The recipe for quality images includes sharp graphics and relevance to the content.
7. Be Careful About the Tone
No teenager wants to feel like they are reading a business proposal or a contract. As much as your content should be informative, engaging, and entertaining, maintaining a casual tone will make the users have a soft spot for your website.
A casual tone that is easy to keep up with will keep a teenage audience hooked.
8. Make the Architecture User-Friendly
We live in a busy and chaotic world, and the last thing a teenager needs is chaotic and hard to follow web architecture. This will make a teenager quit your website and look for another that is more usable. If it is an online store, make it easy for the users to shop on it. Make it easy for them to connect information and locate pages.
Take Away
A good web design is the one that gives users the best experience. A teen-friendly website needs to be lively, have a casual tone, be engaging, and less complicated. Teens are also particular when it comes to quality, and you should ensure that your graphics are perfect. The page loading speed, ease of use or architecture, and mobile-friendliness is another thing that teens look for in a website.
The tips above provide you with all the information you need to create a website that teenagers will love.